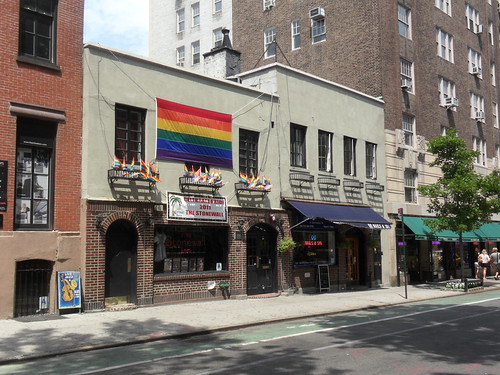 Introduction
In 1969, the Stonewall Riots took place at the Stonewall Inn in Greenwich Village, New York City. Many consider this the most important event leading to the gay rights and modern LGBT movement in the United States. Prior to the Stonewall Riots, LGBT people primarily had children within heterosexual relationships. LGBT individuals always formed families whereby children were parented with gay parents, but how common it was and what the families looked like prior to the Stonewall Riots was difficult to determine because of how secretive and hidden they had to be about it. Accounts of lesbian women reveal that they usually had children as the result of heterosexual marriages, sex work, or relationships with women who had children from these same means. Unfortunately, prior to 1970, LGBT people who had children in heterosexual marriages often would lose custody when they left those marriages for a gay relationship. 
After the Stonewall Riots, LGBT families started to ride out the storm, the result being that LGBT rights in family formation and reproduction roughly can be divided into four waves consisting of: (1) the initial subtle wave of the 1970s to 1980s, (2) a growing wave in the 1990s, (3) a massive wave of growth and change from 2000 through 2019, and (4) the yet to come 2020 wave and beyond.
This Article will explore how LGBT family formation has evolved since the Stonewall Riots. The primary means for LGBT families to build their families, other than traditional intercourse between a man and a woman, were and continue to be through adoption and Assisted Reproductive Technologies ("ART"). In the world of assisted reproduction, typically a lesbian couple or a single woman use donor sperm, either known or unknown, coupled with artificial insemination. Gay men traditionally utilize a traditional or true surrogate (who is genetically related to the child) along with artificial insemination using the sperm of an intended father. As medical technologies in the field of reproduction developed, especially the development of in vitro fertilization ("IVF") and embryo transfers, more men turned towards assisted reproduction via the use of a gestational carrier along with donor egg, either known or unknown, combined with the sperm of one intended father. This gestational carrier process is less risky than using a true surrogate who is the genetic mother. Additionally, more lesbian couples started to utilize reciprocal IVF whereby one mom contributes her egg, becoming the genetic mom, while the other gestates the embryo formed from that egg along with donor sperm. Overtime, medical advances have opened wider doors for LGBT family formation options.
Colleen Marea Quinn*
* Director and Owner of the Adoption & Surrogacy Law Center at Locke & Quinn, Richmond, Virginia. Fellow and Past-President of the Academy of Adoption & Assisted Reproduction Attorneys, Member of the LGBT Bar Family Law Institute, Virginia Equality Bar Association, and Virginia Family Law Coalition and Equality Virginia. Ms. Quinn acknowledges and appreciates her intern, University of Richmond Law student, Victoria Pivirotto in providing research and drafting assistance with this Article.