Latest in Print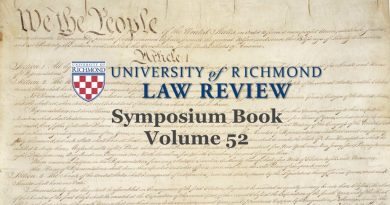 The University of Richmond Law Review is proud to present its 2017 Symposium Issue: Defining the Constitution's President Through Legal and Political Conflict. The Law Review hosts this annual discussion in an effort to assemble the nation's leading voices to discuss current, critical issues in the law with fellow students and the greater Richmond community. This year's symposium focused on how the American presidency has been shaped under the Obama and Trump Administrations through clashes with other branches of the federal government, as well as state attorneys general.

lawreviewadmin
Comments Off

on "Special Solicitude": The Growing Power of State Attorneys General

lawreviewadmin
Comments Off

on Characterizing Power for Separation-of-Powers Purposes

Online Exclusives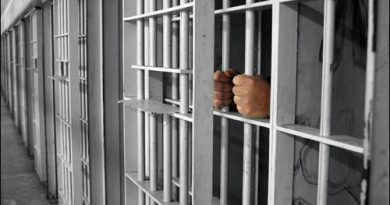 lawreviewadmin
Comments Off

on Underdeveloped and Over-Sentenced: Why Eighteen- to Twenty-Year-Olds Should Be Exempt from Life Without Parole
Emily Powell
Reynolds Wintersmith was just twenty years old when he learned he may spend the rest of his life in prison. In 1994, he was sentenced to life without the possibility of parole for a nonviolent drug crime. It was his first conviction.
When United States District Judge Philip Reinhard was sentencing Reynolds, he struggled with the mandatory minimum requirements:
"Under the federal law I have no discretion in my sentencing. Usually a life sentence is imposed in state courts when somebody has been killed or severely hurt, or you got a recidivist . . . . [T]his is your first conviction, and here you face life imprisonment . . . . [I]t gives me pause to think that that was the intent of Congress, to put somebody away for the rest of their life."
This comment contends that Reynolds Wintersmith belonged to a class of offenders who should be categorically exempt from sentences of life imprisonment without the possibility of parole. Sentencing eighteen- to twenty-year-olds to life without parole should be considered cruel and unusual because it is disproportionate to this class of offenders' culpability.

lawreviewadmin
Comments Off

on The Invisible Minority: Discrimination Against Bisexuals in the Workplace

lawreviewadmin
Comments Off

on You Could Have Told Me That in the First Place: Five Tips that Might Have Saved a Young Lawyer a Lot of Trouble

lawreviewadmin
Comments Off

on Judge Merhige's Environmental Decisions: Expert Handling of Groundbreaking Environmental Rulings and Complex Federal Jurisdictional Questions