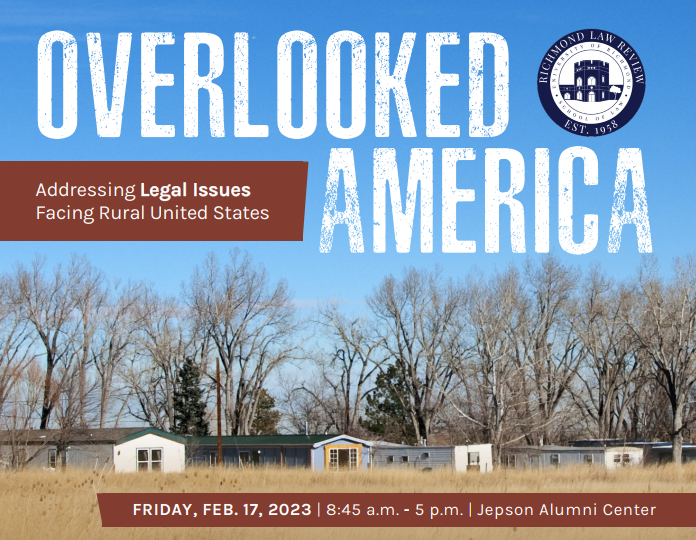 Symposium 2023: Overlooked America: Addressing Legal Issues Facing Rural United States
Friday, February 17, 2023
CLE Materials available here.
7.5 CLE Credits are pending approval by the Virginia Bar Association.
This Symposium will be held in person at the Jepson Alumni Center on the University of Richmond's campus . An in-person livestream option is available in the Moot Court room for Richmond Law faculty and students only.
Join the University of Richmond Law Review for an in-person symposium entitled "Overlooked America: Addressing Legal Issues Facing Rural United States." Presentations will focus on specific legal issues facing rural communities as well as the urban-rural divide. Topics will include access to justice in rural America, water resources in indigenous communities, the coal industry's degradation of Appalachian communities, electoral system reform to enhance rural representation, Virginia-specific policy recommendations, and a panel esteemed authors and litigators discussing pharmaceutical companies' roles in perpetuating the opioid epidemic in the region.
Event is free, but registration is required. 7.5 CLE Credits Pending.
Schedule
8:15 a.m. – Check-In & Continental Breakfast
8:45 a.m. – Opening Remarks | Anthony F. Pipa
9:00 a.m. – Rural America as a Commons | Ann M. Eisenberg
10:00 a.m – Enhancing Rural Representation Through Electoral System Diversity | Henry L. Chambers
11:00 a.m. – Those Who Need the Most, Get the Least | Andrew Block & Antonella Nicholas
12:00 p.m. – Lunch
12:30 p.m. – Duped by Dope | Bryson T. Strachan
1:00 p.m. – Opioid Litigation Panel | Eric Eyre; Paul Farrell, Esq.; Patrick C. McGinley; & Rick A. Mountcastle, Esq.; Moderated by Carl Tobias
2:00 p.m. – Water Resources and Climate Equity | Rebecca Tsosie
3:00 p.m. – With a Wink and a Nod | Patrick C. McGinley
4:00 p.m. – Rural Bashing | Lisa R. Pruitt & Kaceylee Klein
5:00 p.m. – Closing Remarks & Reception