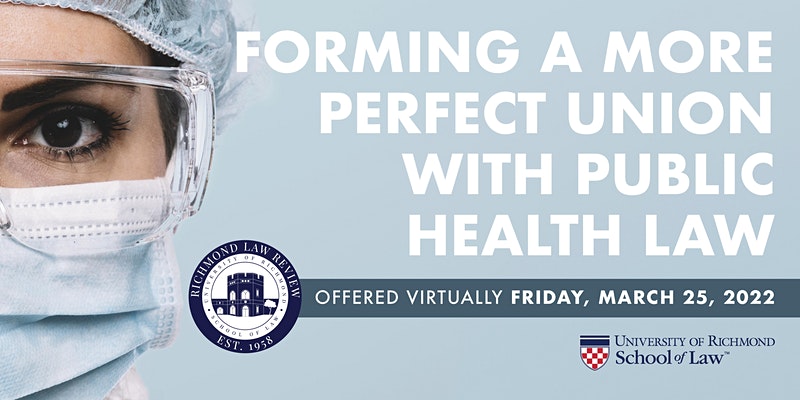 Richmond Law Review Symposium 2022: Forming a More Perfect Union With Public Health Law
Friday, March 25, 2022
CLE Materials: https://richmond.app.box.com/folder/158900899927?v=symposium2022
Six CLE Credits are approved by the Virginia Bar Association
This Symposium will be held virtually via Zoom. An in-person livestream option is available for Richmond Law faculty and students ONLY.
Join the University of Richmond Law Review for a virtual symposium entitled "Forming a More Perfect Union with Public Health Law." Presentations will reflect on the adaptations occurring in public health law during and after the pandemic. Topics of discussion will include social determinants of health, public trust in health administration, wastewater surveillance, administrative responses to drug-resistant tuberculosis, diverse and transdisciplinary overhauls of health administration, and Medicare and Medicaid reform.
Event is free, but registration is required. Six CLE Credits Approved. Schedule below is subject to change.
9:00 a.m. – Opening Remarks
9:15 a.m. – Health Justice: The Role of Law in Advancing Health Equity | Yael Cannon
10:15 a.m. – Break
10:20 a.m. – Trustworthy Digital Contact Tracing and Health Administration | Jessica Roberts and Chris Ghaemmaghami
11:20 a.m. – Break
11:25 a.m. – The Future of Wastewater Monitoring for the Public Health | Natalie Ram and Lance Gable
12:30 p.m. – Break for Lunch
1:00 p.m. – Legal Responses to Drug-Resistant Tuberculosis Control | Polly Price
2:00 p.m. – Break
2:05 p.m. – Imagining a Better Future for Public Health (Law) | Evan Anderson and Scott Burris
3:05 p.m. – Break
3:10 p.m. – Reforming Age Cutoffs | Govind Persad
4:10 p.m. – Break
4:15 p.m. – Student Comment: Postpartum Medicaid Expansion | Madison Harrell
4:45 p.m. – Closing Remarks